From left to right: Will Pfeiffer, Office/Announcer; David Jones, Sales Manager; Henry Fulcher, Co-owner and Announcer; Francis Wood, General Manager/Announcer; Chris Wood, Bookkeeping/Announcer; and Christopher Brochon, Director of Operations/Announcer/On-Site Engineer
Henry M. Fulcher
Henry Fulcher, widely known throughout Virginia as a recognized Bluegrass expert, is a co-owner of WFLO AM and FM. Henry serves as the Vice-President and Treasurer of Colonial Broadcasting Company. Henry has been on the air since 1956, and is the longest on-air announcer at WFLO. He was named Broadcaster of the Year in 1984, and has appeared on the television show Hee-Haw. Henry has hosted numerous bluegrass specials on PBS. He has hosted Voice of America radio shows and American Character with Vincent Peale.
Henry has held all offices with the Virginia Folk Music Association and has emceed over 2,000 benefit shows.  A brick is enscribed and dedicated to Henry in the Virginia Country Music Hall of Fame Museum in Chesterfield, Va.  A Farmville resident, Henry is married to Joyce and has a granddaughter named Faith.
Francis Wood
Francis Wood, the General Manager of WFLO AM and FM, presents two shows on WFLO FM Monday through Friday. Beginning at 6:30 AM, he is the host of The award-winning "Call-Flo Radio Show" ("Best small market radio morning show  of 2012)  and at 12:15 until 1 PM he hosts Lunchbreak, featuring the best songs of the 60 s and 70 s. Francis is also the host of the Call Flo Radio Show on WFLO AM and FM.
A broadcast veteran with over forty years of service in small market radio, Francis was an announcer for WLES-AM in Lawrenceville, Virginia from 1970-1971 before making his home at WFLO. His service to the local community involves seats on the Centra Southside Community Hospital Board of Directors and the Moton Museum Board of Directors. He served on the Farmville Chamber of Commerce for two terms, and is a past President of the Virginia Associated of Broadcasters.
Francis, is an award-winning author who has written and published over twenty books through his Tip of the Moon Publishing Company, which he owns and operates with his wife, Chris Wood. More information is available on this noted author at tipofthemoon.com. Francis is also a Virginia Master Naturalist and a professional storyteller. He is an accomplished musician who admits "music is what lured me into this business. I love being surrounded by it." Contact Francis at fwood@wflo.net.
Christine C. Wood
Chris Wood is the Program Director and Bookkeeper for WFLO. Her responsibilities include scheduling announcers, arranging programming on WFLO AM and FM, producing commercials, and part-time sales. She can be heard on WFLO FM hosting the Wednesday edition of The Morning Show, as a co-host of the Call Flo Radio Show, and on Tuesdays and Thursdays as hostess of The Trading Post Hotline on AM 870. Contact her directly at cwood@wflo.net.
Polly A. Davis
Polly Davis is WFLO s Sales Manager. She manages a department of five sales people and creates sales and station promotions. A veteran of the broadcast industry, she has worked in radio for over three decades. Prior to joining WFLO, she was the General Manager of WSVS FM, a country music station in Crewe. Contact Polly at pdavis@wflo.net.
Christopher Brochon
Christopher Brochon is the Operations Director, and is WFLO's jack of all trades. His duties cover everything from writing ad copy to repairing the plumbing. He is also a co-host on the Call Flo Radio Show, and on-air personality when his services are required.
Outside of work, he is a member of the Friends of the Library and Commonwealth Chorale boards, as well as a member of the local postal advisory board. He spends the rest of his time reading, gardening, restoring his 60s MG, and attempting to garner as much knowledge as is humanly possible. Contact him directly at cbrochon@wflo.net.
David S. Jones
David Jones, a sales representative, has been with WFLO for five years. Prior to working with WFLO, he worked for the Bank of Charlotte County. He is a 2002 Virginia Tech graduate where he studied political science. He is also a 1997 graduate of Randolph Henry High School. For 30 years, he's called Charlotte County his home. David's hobbies include hunting, fishing, and golf. Contact him directly at djones@wflo.net.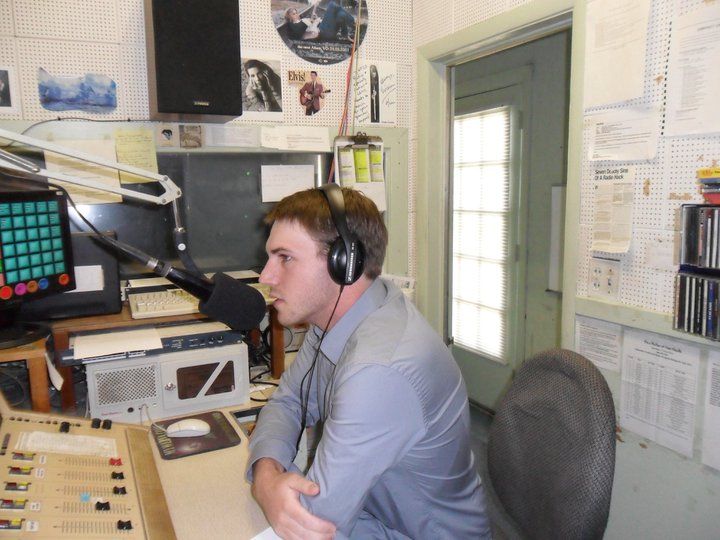 Will Pfeiffer
Will was born in Lapland and raised by a pack of arctic wolves. After a lie at the age of 13, he spend a short time serving in the Queen's Royal Fusiliers preferring to ride bareback. This, of course, is what caused his dismissal. He then trekked across the Himalayas with a Sherpa guide just for the fun of it, before ending up in a Siberian gulag for making a pit-stop on the Imperial Russian Czar's toilet once owned by Nicholas II. Eventually he escaped and smuggled himself aboard a Chinese steamer bound for San Francisco. After landing on the west coast of the U.S. he bicycled over the Rocky Mountains all the way to Virginia, somehow winning the Tour de France along the way. Now he works for WFLO as an announcer and office manager. Most people can not believe, upon meeting him, that he is actually a 72 year old Asian woman.
Really, he is just a quiet guy from Cumberland…..but that's no fun.
Dan Albus
Virginia born and bred, Dan grew up in the Tidewater area. While continuing his education, he began as an announcer and Public Service Director for a Norfolk radio station. He was Program Director for an AM / FM operation in Maryland and later in Williamsburg, Virginia, where he was a recipient of the national Abe Lincoln Award for Broadcasting. A business opportunity with a Fortune 500 company presented itself where he remained for 28 years, and, after taking early retirement, he returned to radio and came to WFLO FM part time as an announcer and also the host of the "Swinging Years Show" on Saturday mornings. He is active in his church and community and an avid supporter of the Southside SPCA in Meherrin. Dan enjoys golf, hiking, college football/basketball, and lives in Crewe with his wife and two "rescued" dogs.
William Lynn
Born and raised in Farmville William has been handling Sunday mornings with the show of Sunday Melodies for many years now. While a full time job at Longwood University occupies most of his time the Sunday morning show has been an outlet for the music he enjoys most. A mix of instrumental music including movie themes, a little light Jazz and some classical music provides easy entertainment for all, and with features like the Mormon Tabernacle Choir and the Mom song, the show helps the community to prepare for a relaxing Sunday morning.
Novey Wiley
Novey Wiley, Sr. is the host of the Brother Novey Wiley Gospel Program , which is aired every Sunday morning from 7 AM 11 AM on WFLO AM. Prior to joining WFLO, he was a gospel radio announcer at WPAK for fifteen years. Brother Wiley is a Farmville native, and has worked diligently in the local Farmville community for over 45 years. He has served as the Pastor of the Spirit of Life Church of God in Christ for the last eighteen years. Novey continues to spread the Good News of Jesus Christ through the power of gospel music.
Jacob Miller
Jacob was born in Fredricksburg and raised in Hampton Roads He is proud to live in Farmville, and since spending the majority of his high school years here, considers it his hometown.
Jacob is a Civil war reenactor who portrays both sides and has a deep love of history and literature. reading, acting, and singing are a few of his favorite activities. Music is big part of his life; the genres he enjoys are quite eclectic.
A senior at Fuqua School, he plans to major in political science or public policy at university. He is captain of the Battle of the Brains team and announces the starting line-up at school games. Jacob is a member of WFLO's part-time weekend staff.
Steve "Mr. Beach" Leonard
Steve Leonard hosts the Saturday Beach Show from 5 PM 8 PM on WFLO FM. Prior to joining WFLO, Steve worked with WVTR, WMXB, and WZEZ where he hosted numerous shows. Steve was awarded the Outstanding Virginian award by the Virginia Jaycees, and has received numerous commendations for community service from President Bill Clinton, former Virginia Governor George Allen, and Tom Bliley.
Steve is a member of the Richmond Broadcasters Association Hall of Fame. Contact Steve directly at steve.leonard4444@yahoo.com.
EEO Public File Report for WFLO FM & AM


EEO public file report for station WFLO-FM and WFLO-AM in Farmville, Virginia

This EEO public file report covers one year period ending May 31ST 2015.

This EEO public file report is filed in station WFLO-FM's and WFLO-AM's public inspection file pursuant to section 73.2080(c)(6) of the Federal Communications Commission's (FCC) rules. I am Francis E. Wood, Jr. general manager of Colonial Broadcasting Co., Inc. of Farmville, which includes WFLO-AM and WFLO-FM radio stations. Colonial Broadcasting Co.,Inc. of Farmville is a privately owned company. Our studios are located at 1582 Cumberland Road Farmville, Virginia. Presently, our company employs a total of thirteen (13) individuals. Seven (7) of these persons are full time employees; 30 hours or more. Currently, there are no employment vacancies and we anticipate no hiring in the near future. Colonial Broadcasting Co.,Inc of Farmville ia an equal opportunity employer and abides by both state and federal regulations and EEO guidelines set forth by the FCC.
Last Updated ( Saturday, 23 July 2011 )